Attract Bluebirds To Your Own Backyard
Yellow mealworms are the larval or grub stage of a beetle known as Tenebrio molitor. Mealworms should not be confused with earthworms. They are not smelly or slimy and they do not sting or bite, but are clean, odorless, and pleasant to handle. SEI mealworm larvae have had no contact with soil but are reared indoors on wheat bran. Mealworms will not become a pest or nuisance in or around the homes of users.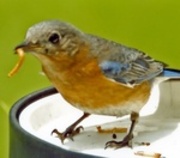 Primary uses for mealworms include food for wild birds and various pets including reptiles, fish, and certain small mammals. Mealworms are widely used in the rehabilitation of injured wild vertebrates including bats and lizards. They are also used in biological studies from grade school to universities. Mealworms are excellent bait for fish including trout, bream, and catfish. Most of our sales are to homeowners who enjoy watching or photographing wild birds in their own backyard. Many of nature's most beautiful wild birds such as bluebirds, chickadees, wrens, and titmice feed primarily on insects. Display of mealworms is the ideal way to attract these birds to your home -- where they can be observed for hours. It should be noted that insect feeding birds usually are not attracted to seed feeder displays.
When you first begin feeding birds, place some mealworms in a shallow glass baking dish so they cannot escape. Place the dish in an area easily observed by birds. A dish placed on the ground near a commonly used bird resting place is ideal. Use a low-sided dish, because the birds may not enter a deep container. Once the birds become accustomed to this type feeding, you can place the mealworms and dish on any flat surface that does not allow them to hide from the birds.
SEI also markets a unique bird feeder for displaying mealworms in your backyard. The feeder can be adjusted to prevent feeding by blackbirds, mockingbirds, jaybirds and other large birds, but allows feeding by small colorful birds. The feeder also provides mealworms protection from sun, rain and ants.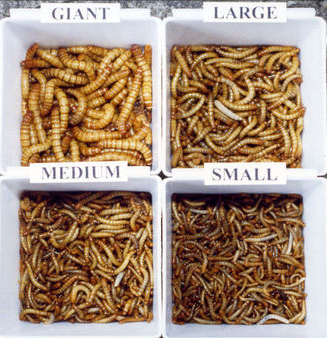 Orders are shipped by US Postal Service, Priority Mail, FedEx. on Monday through Thursday only.
Special packaging and handling requests: a charge of $1.25 will be added for each package when number of packages vary from normal SEI bulk packaging method.

Twelve (1 dozen ) cups is the minimum order available. Please order in units of 12 cups for larger orders.

Conditions for live delivery guarantee by SEI.

Live delivery of mealworms is guaranteed by SEI when maximum temperatures are not expected to exceed 89 degrees, except when the customer agrees to pay for Over Night Delivery by U.S. Postal Service & FedEx. Other methods of shipment under very hot conditons are not guaranteed.

When deemed necessary by SEI, a cold pack will be included in each box at a cost of $1.00 per box.

Customers receiving dead or dying mealworms must notify SEI within 2 days following receipt of package for guarantee to be honored.

Prices do not include shipping and are based on a single shipment.

All quotes are in U.S. dollars

All prices are subject to change without notice.

All prices have been updated Mar.1st 2017
Storage of Mealworms
Mealworms can be kept for weeks in a refrigerator when they are properly handled and contained. Just follow the following steps.
♦ Dump your bulk bag of worms into a large dishpan. Shake all of the worms off the newspaper and into the pan.
♦ Transfer them to a shallow tupperware-type container and cover them with oatmeal or wheat bran. Be sure the tupperware lid is well vented by several one-inch diameter holes. This prevents condensation within the container. Condensation is lethal to mealworms. Store the container with mealworms in a refrigerator at about 45-50◦F
♦ Every week or two your mealworms will require some moisture-rich food such as apples, potatoes or crisp lettuce. First take the mealworms out of the refrigerator and allow them to reach room temperature so they can move around and eat. Then, place slices of potato or apple on the oatmeal. The mealworms will then come to the top of the oatmeal and feed to recover moisture lost in the dry atmosphere of the refrigerator.
Mealworms will live several weeks if handled as directed above.
Large, Medium,Small - Bulk Mealworms
Quantity Price (per thousand) Total Cost
1,000 $12.00 $12.00

2,000 $10.00 $20.00
3,000 $ 8.67 $26.00
4,000 $ 7.50 $30.00
5,000 $ 6.60 $35.00
10,000 $ 6.00 $60.00
Large,Medium, Small Cupped Mealworms
Number of Cups 100 worms per cup
($23.00
per thousands for giants)
Smaller quantity are avaliable

*Prices are less shipping and surcharges*